Breast Reconstruction
Atlanta
Surviving breast cancer is often accompanied by a sense of loss, if you have also suffered a mastectomy, double-mastectomy, or lumpectomy. If you have lost one or both breasts because of cancer surgery, or because you elected to reduce your risk of breast cancer by having your breasts removed, then a breast reconstruction in Atlanta can help you can begin to look and feel like yourself again.
Winning the battle against breast cancer shouldn't mean losing your sense of femininity.
Women who have lost one or both breasts to breast cancer can regain their figure and their old selves with breast reconstruction. Reconstructive breast surgery has helped to empower many breast cancer survivors looking to put cancer completely behind them.
Breast Reconstruction Gallery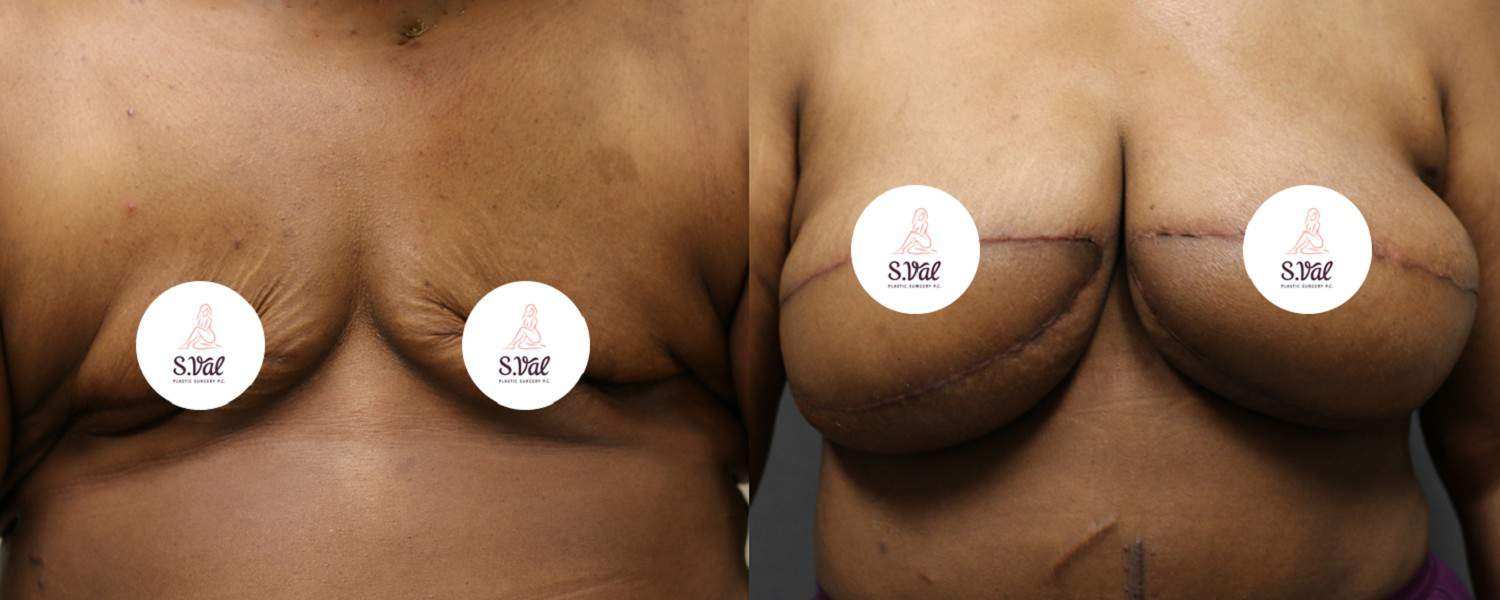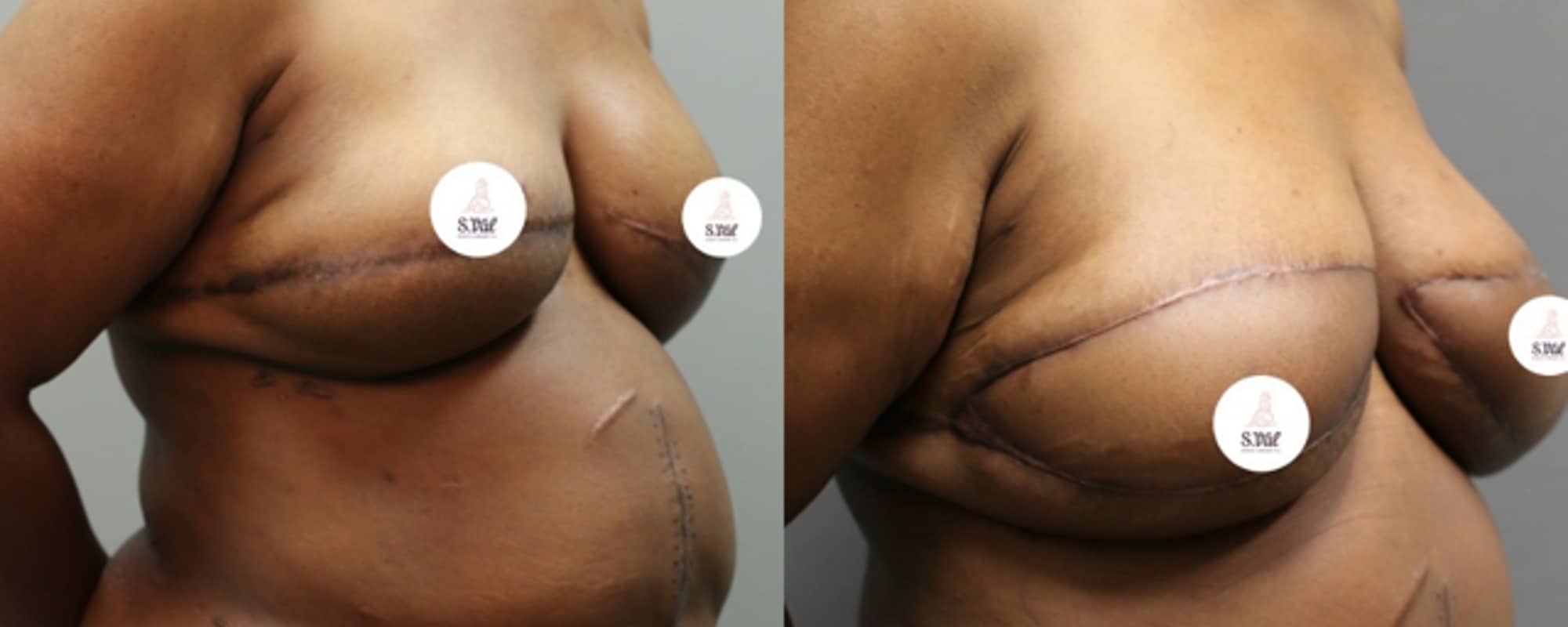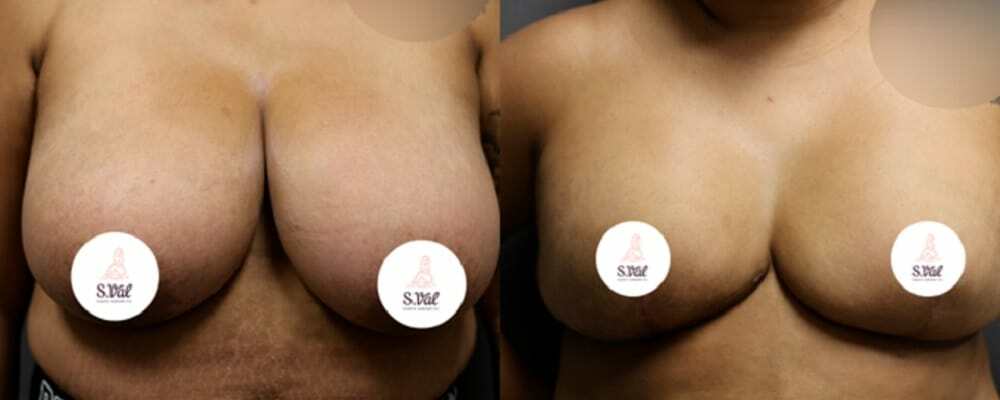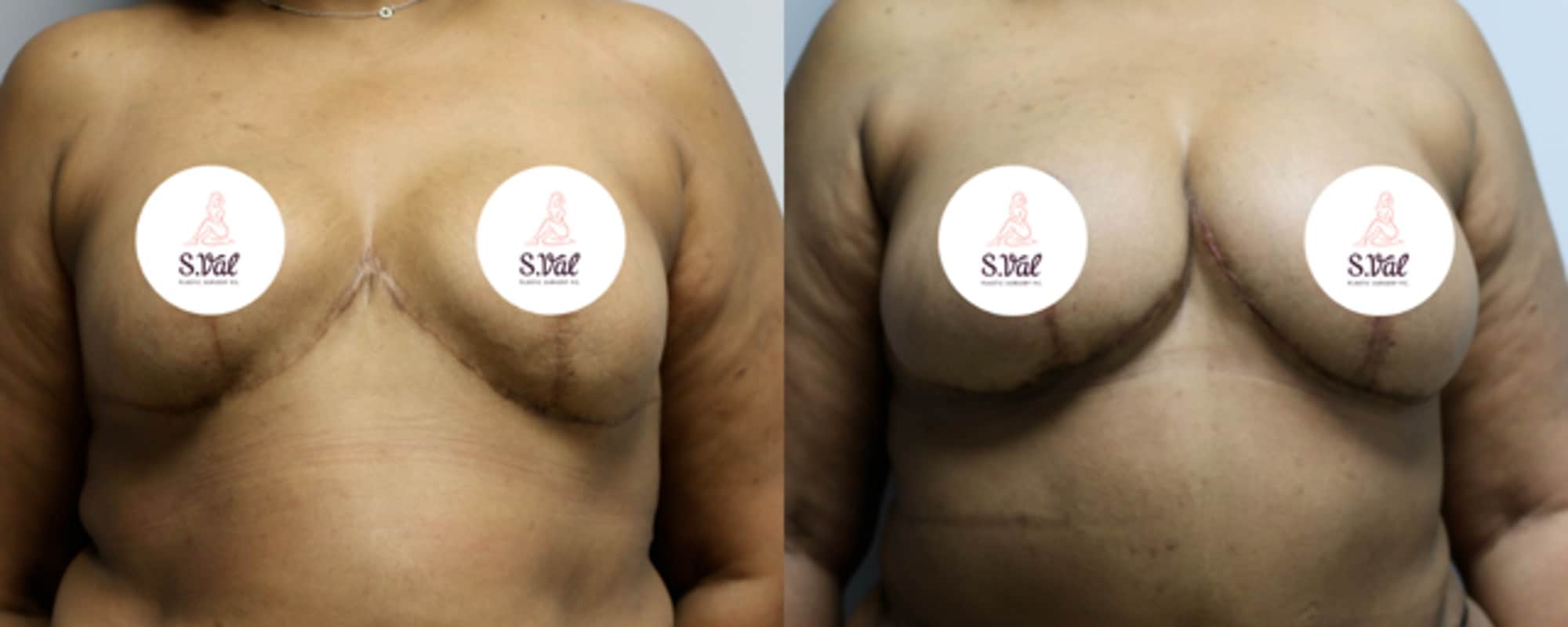 Breast Reconstruction Options in Atlanta
Every woman's anatomy is unique, which means that the breast reconstruction technique that is right for you is based on a comprehensive evaluation of your situation and needs. As such, we take the time required to create a customized treatment plan specifically for you. However, the three most common types of breast reconstruction are breast implants, tissue expansion and flap techniques.
Breast Implants: Breast reconstruction can be accomplished using either silicone and saline breast implants to create the breast mound. Implants are often combined with tissue expansion or flap techniques.
Tissue Expansion: With this technique, a tissue expander is place underneath the skin and is filled gradually, over time, to stretch the skin, making room for an implant. This is a somewhat lengthy process that involves several office visits, but the recovery period is easier and quicker as compared to flap procedures.
TRAM and Latissimus Dorsi Flap Techniques: These procedures recreate a breast mound by using muscle, fat, and skin from other parts of your body – such as your buttocks, abdomen, or back. The tissue is tunneled to the mastectomy site and remains attached to the original blood supply. In many cases, a flap technique may be combined with a breast implant.
DIEP, SGAP, PAP, and ALT Flap Techniques: These free tissue flaps require advanced micro-surgical techniques in which blood vessel harvest and reconnection to chest vessels are required. The advantage of free tissue flaps is that they use only skin and fatty tissue for reconstruction, thereby sparing the muscle.
Watch this video for more information on the DIEP Flap technique.
Nipple Reconstruction
Breast reconstruction may also entail reconstruction of your nipple, if you choose, including tattooing to define the dark area of skin surrounding your nipple (areola).
What to Expect After Surgery
You may be tired and sore for a few weeks after your surgery, and we may prescribe medication to control your pain. In addition, you may have drainage tubes in place for a short time after your surgery to remove excess fluids that collect in the surgical site. Wearing an elastic bandage or support bra can help keep swelling down and support your breast while it heals.
You'll also have stitches after your surgery. They'll probably be absorbable, though, so you won't need to have them removed. Scarring is permanent, but the scars generally fade over time.
Getting back to normal activities may take up to six weeks or more. We will let you know of any restrictions to your activities, such as avoiding overhead lifting or strenuous physical activities. Don't be surprised if it seems to take a long time to bounce back from surgery – some women report that it takes as long as a year or two before feeling completely healed and back to normal.
Scheduling a Breast Reconstruction Consultation in Atlanta
Dr. Sybile Val has helped many Atlanta-area women improve their appearance with plastic surgery. She is a board-certified plastic and reconstructive surgeon dedicated to providing her patients with compassionate care in a private, warm, and safe environment. She has made numerous presentations on breast reconstruction at national and international meetings and has also performance of more than 200 microvascular breast and trauma reconstructions. To schedule a confidential breast reconstruction consultation in Dr. Val's Atlanta-area office, call 470.381.6500 or complete and submit the consultation request form.
"I was comfortable from the moment I sat down with Dr. Val. I had discussed what I was interested in and she reassured me that it was possible and that I shouldn't be nervous about the procedure. She gave me all of the information and let me know what to expect and gave me time to consider if that was what I wanted to move forward with. There was support throughout the entire process even more support than I expected. And as a result, immediately after, my confidence soared. I would like to give a huge thank you to Dr Val for helping me get me back."
I can't say thank you enough to Dr. Val for helping me achieve a vision that I thought was lost – my pre-baby belly. For years I accepted that this will be the best it would look. I was wrong! Dr. Val was realistic, understanding, and skillful from beginning to end. She was easy to talk to and had equal concern for my outcome. She made having my procedure one of the best things I could have ever done for myself. Thank you again, Dr.Val!
I went to see Dr. Val for filler and Botox. Overall, I must say that my experience was great. Dr. Val made me feel at ease and my results were amazing. My lips were perfect and Dr. Val was able to give my eyebrow a lift that was very nicely done.
I was so nervous about getting my reconstruction after my mastectomy. Dr. Val you guided me through the process, answering all my questions and telling me what to expect every step of the way. From my heart I say thank you. You are the best. I'm feeling like a women again, and I can smile again because of you.