Droopy upper eyelids and puffy bags under the eyes can make you look older and more tired than you feel. "Blepharoplasty," or eyelid surgery, is the most-commonly performed facial plastic surgical procedure. By removing small amounts of excess skin and fat, we can transform the eyelid region to a more youthful and refreshed look.
We can correct loose skin around the eyes while virtually eliminating visible scarring. If you are wondering how an eyelid lift can improve your appearance, then you need to know how the surgery is performed and what to expect.
The upper eyelid incision is hidden in the natural crease of the eyelid and is barely perceptible. Small amounts of skin, muscle, and fat are removed to recreate a youthful eyelid crease and fold. Most lower eyelid incisions are made within the conjunctiva of the eye, thus preventing any scarring on the skin. Fine wrinkles can be addressed by laser resurfacing.
The surgery usually takes around an hour, and many patients elect to have both the upper and lower eyelids addressed at the same time. Sometimes a facelift is also combined with eyelid lift for a complete facial rejuvenation.
Eyelid Lift Gallery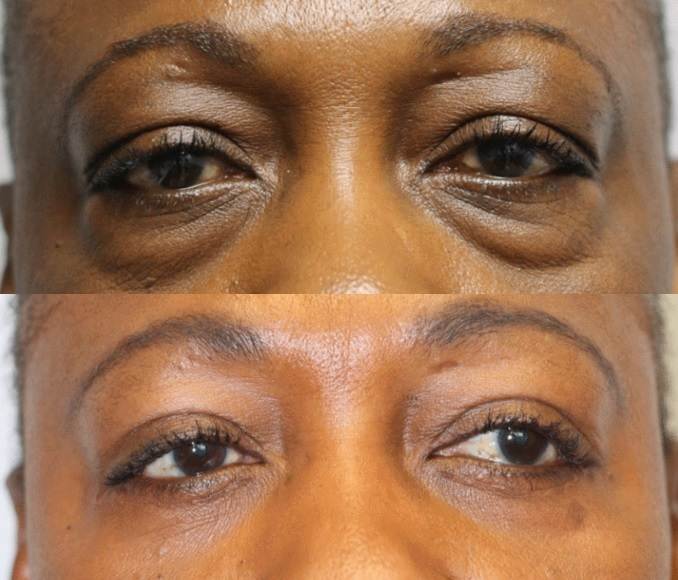 Types of Techniques
There are different types of eyelid surgery procedures. The method used is based on the goals and needs of the patient.
Bilateral Blepharoplasty: This is a conventional eyelid surgery where the excess skin is excised and removed above and below the eyelids for complete rejuvenation of the eyes. The procedure can also be performed as an independent surgery of only upper or lower eyelids. The scars heal to a thin fine line. This procedure is great for people who are experiencing sagging skin on the lids or lower lids with wrinkles and loose skin that they want to remove. Patients can expect about 10 to 14 days of downtime after a bilateral blepharoplasty or a lower blepharoplasty and about seven to 10 days of recovery for an upper blepharoplasty.
Double-Eyelid Surgery: Double-eyelid surgery is also a method of blepharoplasty. The technique used can be either full-incision double-eyelid surgery or partial-incision double-eyelid surgery. Full incision double-eyelid surgery is by far the most popular, and it is superior to other eyelid surgeries. Full-incision double-eyelid surgery is a popular choice for many patients because of its extended capability to enhance and modify the eyelids while addressing the signs of aging. Full-incision double-eyelid surgery produces permanent effects and can be applicable to all eye shapes. A partial-incision double-eyelid surgery involves making minor incisions on the eyelid to remove excess adipose tissue and loose muscle tissue. The muscles are then tightened and sutured to create the new crease. The benefit of this procedure is the minimal scarring and procedural discomfort during and after treatment.
What to Expect With Your Eyelid Surgery
Eyelid surgery is usually done in an outpatient setting. Numbing medication will be injected into your eyelids and you'll be given intravenous medication to help you relax.
If you have surgery on both your upper and lower eyelids, your upper lids will likely be worked on first. Cuts will be made along the fold of the eyelid; excess skin, muscle and possibly fat will be removed; and the cuts will be closed.
On the lower lid, a cut will be made just below the lashes in your eye's natural crease or inside the lower lid. Excess fat, muscle, and sagging skin will be removed or redistributed, and the cuts will be closed.
After surgery, you will spend time in a recovery room. You can leave later that day to recuperate at home.
Scheduling an Eyelid Lift Consultation in Atlanta
To schedule a confidential eyelid lift consultation in our Atlanta-area office, call 470.381.6500.
"I was comfortable from the moment I sat down with Dr. Val. I had discussed what I was interested in and she reassured me that it was possible and that I shouldn't be nervous about the procedure. She gave me all of the information and let me know what to expect and gave me time to consider if that was what I wanted to move forward with. There was support throughout the entire process even more support than I expected. And as a result, immediately after, my confidence soared. I would like to give a huge thank you to Dr Val for helping me get me back."
I can't say thank you enough to Dr. Val for helping me achieve a vision that I thought was lost – my pre-baby belly. For years I accepted that this will be the best it would look. I was wrong! Dr. Val was realistic, understanding, and skillful from beginning to end. She was easy to talk to and had equal concern for my outcome. She made having my procedure one of the best things I could have ever done for myself. Thank you again, Dr.Val!
I went to see Dr. Val for filler and Botox. Overall, I must say that my experience was great. Dr. Val made me feel at ease and my results were amazing. My lips were perfect and Dr. Val was able to give my eyebrow a lift that was very nicely done.
I was so nervous about getting my reconstruction after my mastectomy. Dr. Val you guided me through the process, answering all my questions and telling me what to expect every step of the way. From my heart I say thank you. You are the best. I'm feeling like a women again, and I can smile again because of you.